Good to Great to Gone (Chinese Edition)
Posted:2016-01-06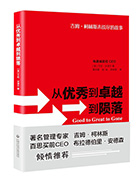 Good to Great to Gone (Chinese Edition), co-published by the SIAS and the Shanghai Academy
of Social Sciences Press, was released in January 2016.
The book features the story of Circuit City, a leading company in the American consumer electronics industry. We learn about how it went from being a Mom and Pop store to a Fortune 500 company, and then moved on to suffer bankruptcy and liquidation. The author, Alan Wurtzel, who was CEO of Circuit City, analyzes and comments on each period of the enterprise.
The Chinese edition targets Chinese readers, particularly business leaders. It is essential reading for those who wish to learn about how to take an enterprise from good to great, but also those who would like to understand how to avoid plummeting from great to gone in a constantly evolving marketplace.