A Century of Cultural and Artistic Exchanges Between Shanghai and the US
Posted:2015-08-07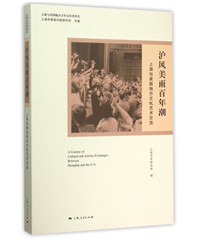 In August 2015, the SIAS launched A Century of Cultural and Artistic Exchanges Between Shanghai and the US, published by the Shanghai People's Publishing House.
Compiled by the SIAS and edited by the Shanghai Art Institute, the book records across five chapters local exchanges with the US, proceeding in chronological order from the moment that Shanghai first opened its port. Touching on areas of literature, drama, film, music and dance, the book reviews the profound history of communication between two quite different civilizations, and serves as a reminder of their cooperation and friendship.
The SIAS aims to publish a series of eight works, illustrating the history of Shanghai-US interactions in arts, sports, education, architecture, economy, finance, law and technology. By looking back at the highlights of bilateral exchanges, the books help draw inspiration from the past 10 decades, further helping the two nations build a mutually beneficial relationship. Readers may also get a better idea of the importance of making connections and how that can help enhance friendship.