Shanghai Oil Painters in America
Posted:2015-08-07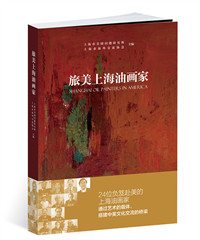 Shanghai Oil Painters in America, compiled by the SIAS and the Shanghai Overseas Exchange Association, was published by the Zhongxi Book Company in August, 2015.
The book introduces a group of Chinese painters that travelled to America in the course of their careers following China's opening up. Sharing a strong bond with Shanghai, these artists have made contributions to the cultural and artistic relationship between the city and the US. By illustrating the lives of this group of acclaimed and successful painters, the book aims to demonstrate the influence that Shanghai's creative talents have brought into the American art world, and to show how America influenced these individuals in turn.
Journalists from local media interviewed Chen Yifei, Lai Lixiang, Zhou Zhicheng, Chen Yiming, Han Xin, Liu Yaozhen, Chen Danqing, Wei Jingshan, Zou Hongmin, Zha Guojun, Chen Chuan, Wu Zhenggong, Kong Baiji, Xu Wenhua, Zhao Weiliang, Wang Tie, He Zuming, Xia Baoyuan, Xia Yubing, Liu Shuchun, Chen Hua, Jiang Changyi, Chen Ying, and Zhu Zhechi. Each of them has taken a unique path to surviving and thriving in the US. The book offers unique angles to showcase the ways in which Chinese and American people are brought into contact, while suggesting prospects of a collaborative future between China and the US.