The Evolution of American Urban Society (Chinese Edition)
Posted:2016-01-08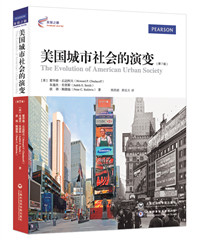 The Chinese edition of The Evolution of American Urban Society, co-published by the SIAS and the Shanghai Academy of Social Sciences Press, was officially released in January 2016.
Presented in chronological order, the book surveys the dynamics of American urbanization from its colonial period to the 20th century. It blends historical views on society, economics, culture, and politics, while focusing on the ways in which diverse peoples have inhabited and interacted in American cities. It also tackles ethnic and racial minority issues, and offers perspectives on urban construction, and on industrial and commercial development. While highlighting urbanization's constantly shifting nature, the book also gives clues to the essential features of US urban development.
More than half of China's population now live in urban areas. Chinese and American cities have witnessed many similar trends as they have urbanized. The publishers of the Chinese edition of this book aim to encourage Chinese readers to think about the problems inherent in the rapid speed of urban sprawl, and to learn about the nature of development by tracing the history of urbanization in the US.